Workshop on Measurement and Validation Systems and Technology in Physiotherapy and Reabilitation, June 17, 2016, Department's Conference Hall
June 12, 2016
A Joint Workshop on Measurement and Validation Systems and Technology in Physiotherapy and Reabilitation, organized by HU Department of Physiotherapy and Reabilitation and HU Department of Electrical and Electronics Engineering, will be held on Friday June 17, 2016 at our department's conference hall.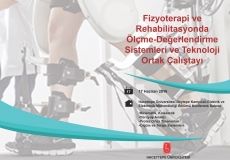 Medium of the workshop is Turkish.
Please click
HERE
for a detailed poster and schedule of the event.
All interested are invited to this all-day event.